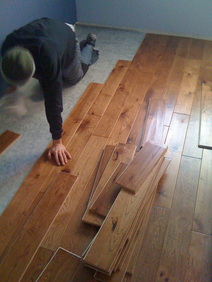 Installations
Our installation services encompass the following details:
Leveling the floor to industry standards of approximately 3/16" in a ten foot radius.
Making sure the subfloor is clean, dry and ready for wood.

All installations over a slab, including plywood subfloors for solid wood floors, receive vapor barriers, to protect your flooring investment.
We use several differing methods of installation, to fit your site specific flooring needs; Including nail down, glue down and floating methods.

We are not just flooring installers; Our flooring service includes staircases and moldings, to create a flow and maintain the unity of your home design.

Our service does not end upon the completion of your new floor. It is our goal to serve you, by helping you maintain your floor, so that it looks good and lasts a lifetime.