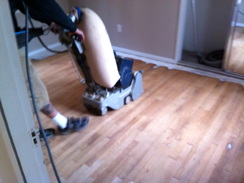 Sanding and Refinishing
Our guidelines for sanding and refinishing your floors ensures the best possible outcome:
We use specific sandpaper sequences, based on the type of floor to level and prepare your particular floor for the stain and finishing process.

We full trowel fill the entire floor instead of just spot filling the floor, to avoid skipping any chips, cracks, nail holes, etc.
We remove floor plugs in order to keep the floor as flat as possible, which ensures the most aesthetically pleasing look obtainable.
We use several different methods of finishing your floor to fit your needs; From European oil finishes to polyurethanes.
Our first choice for polyurethane finish is the next generation in waterborne finishes called Isocynates. They are the most durable and are the same type of materials used to paint airplanes and locomotive engines.
Our sanding equipment is fitted with vacuum systems to keep the dust to a minimum.